Hydrel has a clear mission – to be the premier brand of outdoor architectural luminaire manufacturer. To achieve this, we use technology to create optical precision and manufacture the most reliable outdoor architectural luminaire to a global market.
We create engineering excellence in lighting design for harsh environments and challenging locations and deliver rigorously tested, commercial-grade outdoor luminaires that unveils nighttime beauty.
Our team works towards manufacturing the highest quality fixtures that unveil the nighttime beauty for architecture, aquatics, and landscapes. We incorporate innovative sealing capabilities, superior materials, and long-lasting finishes. The result – luminaires that withstand decades of use with minimal maintenance and unmatched structural integrity.
We're proud to say that for 60 years, we've helped bring to life distinct locations, unique environments, and fascinating landscapes with our outdoor architectural luminaires.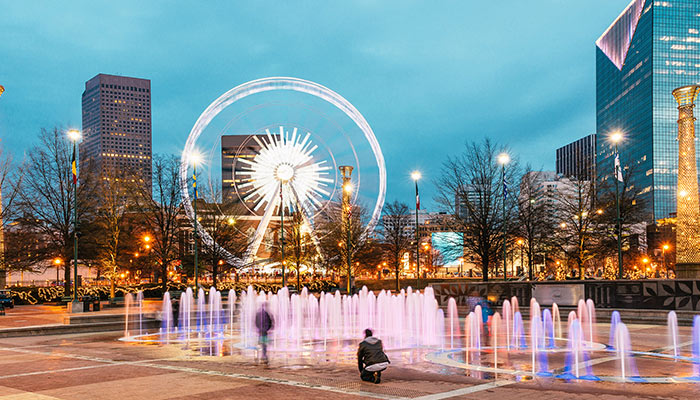 Unveiling nighttime beauty with light.
With 60 years behind us, we've learnt a thing or two about outdoor lighting. From lighting the Hoover Dam to lighting skyrises like the Frost Bank Tower, we helped make it happen. We offer complete control and network options and continuously ensure innovation is at the forefront with Flow-Thru, Aim-Lock, and Quad Chip, to mention a few. You can rely on Hydrel for your architectural outdoor lighting design requirements.
Our fixtures are made in the USA, with manufacturing locations in Crawfordsville, Indiana and Winona, Minnesota.
All our luminaires meet BAA, the Buy American Act, except for the remote transformers for accent and landscape fixtures. The purpose of manufacturing in the USA allows us to maintain the quality that Hydrel is known for and will for years to come. We are proud to back the power of the American factory floor while supporting hundreds of local economies in the USA.
Our locations are outfitted with the most advanced production line equipment.